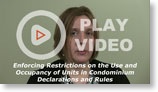 Play Video on Mobile Devices and Older Computers.

Enforcing Restrictions on the Use and Occupancy of Units in Condominium Declarations and Rules

Sonja Hodis
- Condo Lawyer,
HODISLAW.COM
Summary:
Having problems with condominium owners renting rooms in their unit? A condominium corporation can take steps to enforce the occupancy provisions in their Declaration or Rules. Sonja Hodis talks about her involvement in the landmark case of Nipissing Condominium Corporation No. 4 v. Kilfoyl which upheld a single family occupancy provision in a condominium declaration and prevented owners from renting rooms to students. She also discusses the more recent Court of Appeal case of Chan v. TCC No. 1834 which has expanded the Kilfoyl case and has given condominium corporations the ability to include occupancy restrictions in their Rules.

Bio:
Sonja Hodis is a litigation lawyer based in Barrie that practices condominium law in Ontario. She advises condominium boards and owners on their rights and responsibilities under the Condominium Act, 1998 and other legislation that affects condominiums. She represents her clients at all levels of court, various Tribunals and in mediation/arbitration proceedings.
Sonja can be reached at (705) 737-4403,
info@hodislaw.com
or you can visit her website at
www.hodislaw.com
.