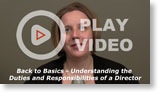 Play Video on Mobile Devices and Older Computers.

Back to Basics: Understanding the Duties and Responsibilities of a Director
Sonja Hodis
- Condo Lawyer,
HODISLAW.COM
Summary:
The Condominium Act, 1998 sets out a specific list of responsibilities and duties of a director in a condominium. Learn about the various duties and responsibilities and where they can be found in the Condominium Act, 1998.

Bio:
Sonja Hodis is a litigation lawyer based in Barrie that practices condominium law in Ontario. She advises condominium boards and owners on their rights and responsibilities under the Condominium Act, 1998 and other legislation that affects condominiums. She represents her clients at all levels of court, various Tribunals and in mediation/arbitration proceedings.
Sonja can be reached at (705) 737-4403,
info@hodislaw.com
or you can visit her website at
www.hodislaw.com
.